For the first time Tuesday 09/06/2010 this web site it a mile store of over 1000 visitors in one day (WOOHOO!!!). The gain in popularity of this site from its begging's only 6 months ago has been totally amazing. I would like to thank everyone who has visited this site and especially those who keep coming back. I hope that this site has been a useful resources for you and that you continue to find it a helpful web site.
In saying that… In an effort for you to more easily find information on this site I have added a new "Archive" section from the menu bar above. This has three sub heading that link to pages that are automatically generated. Hopefully this will make it a lot easier for you to find any of the older articles on this site if you are looking for an article on a particular topic.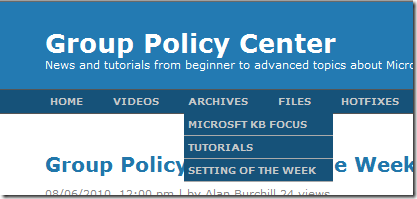 I would also asks that if you have any other feedback (good or bad) please feel free to send me and email (via About > Contact) or leave a comment on this post.
Thanks Again