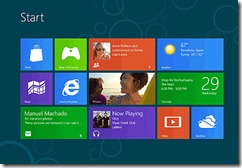 So unless you have been under a rock for the past 24 hours then you would have missed the public release of Windows 8 Consumer Preview and Windows Server 8 Beta. I have only been running less than 24 hours and I am finding heaps of new exciting Group Policy settings that I will blog about soon but one really stands out. The "Do not show the Start Menu when the user logs in" policy allows you to boot the OS into the more familiar desktop and not the Metro start menu. Interesting to note that booting into the desktop is also the default behaviour for Windows Server 8 so you can also use this setting on your server if you want to start them into Metro (but you prob don't want to).
This setting can be found under User Configuration > Policies > Administrative Templates > Start Menu and Taskbar and of course only work on Windows 8 Consumer Preview.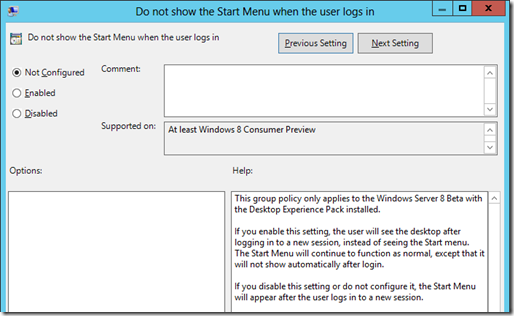 Update: I have tested this policy setting and it appears it does not work on the Windows 8 Consumer Preview. I suspect this is a bug as the Supported On statement clearly says "Windows 8 Consumer Preview".

Update #2 / Rant: OMG! In closer look at the help of the setting it says "this group policy only applies to the Windows Server 8 Beta"  meaning that Microsoft are deliberately forcing people to launch the start menu. The fact that this is NOT something that can be controlled is VERY frustrating a reeks of an Apple like attitude of telling us that is not something we want. I get that the default is to launch into the metro start menu and I even think it is a better menu than the traditional start menu. But taking away people's choice to go straight to the desktop is going to anger a lot people like myself especially when we know it is a Server OS option.