Microsoft has now release the new ADMX pack for Windows 10 1511 (Threshold 2). What is notable about this release is that is has the Group Policy setting "Defer Upgrade and Updates" which is the policy that enabled the Windows Update for Business feature.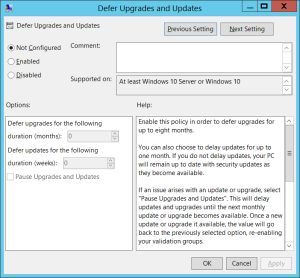 This policy setting can be found under the "Computer Configuration\Policies\Administrative Templates\Windows Components\Windows Update". To enable the new policy setting install download the Windows10_Version_1511_ADMX.msi from  http://www.microsoft.com/en-us/download/details.aspx?id=48257  and then copy the PolicyDefnitions folder over top of your Group Policy central store.
To use the setting simply configured the "Defer upgrade for the following duration" to the number of months you wish to defer the upgrade to the latest OS build. The "Defer updated for the following duration" is another option to delay the installation of security patches. Unlike the "Defer Upgrades" option "Defer updated" can only be deferred weeks based on their critical nature.
Also note, these policy setting are only applicable to computers that are configured to use Windows Updated as a source for patches. Updates that are delivered in corporates using WSUS are still controlled via the more traditional approve/deny within the tools itself.
Then to target the different levels of policy setting using my How to apply a Group Policy Object to individual users or computer or setup multiple test groups as per my other post  Group Policy for WSUS