In Windows 8 there are now two different versions of Internet Explorer 10 installed. One is a Metro looking version that does not support Brower add-ons to improved performance and reliability of the touch version of the browser. The other more traditional desktop version of Internet Explorer allows browser add-ons (x86 only) but its controls are not as touch friendly (for more info see http://blogs.msdn.com/b/b8/archive/2011/09/14/metro-style-browsing-and-plug-in-free-html5.aspx). However if you are using Windows 8 on a traditional non-touch device however you will pretty much want to always want to default to the IE Desktop version as there is no advantage to running the Metro version without a touch screen.
Along with the new browser there is of course new Internet Explorer 10 group policy preferences settings and one of these allows you to default the browser to always open in IE in desktop mode and below are the instructions you need to default the browser to Desktop Mode.
Step 1. Edit a Group Policy targeted to a user and open "User Configuration > Preferences > Control Panel Settings" then right click on "Internet Settings" and then click on "New" and "Internet Explorer 10 and 11"
Step 2. Click on the Programs tab and then choose "Always in Internet Explorer on the desktop" and tick "Open Internet Explorer tiles on the desktop"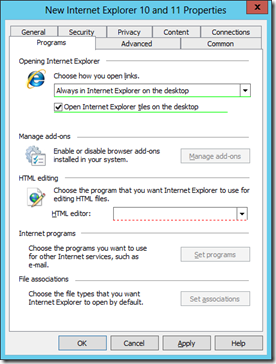 Note: Not sure why it is called "Internet Explorer 10 and 11" but this seems to suggest that the options of the two browsers version will be similar.
Note2: If you have an existing Metro tile pinned to your start screen you will need to re-create it looks like the link for Metro IE is not the same for Desktop IE
Update: Microsoft has now released blog post about this feature called Launch Options for Internet Explorer 10 on Windows 8