If you are like me and are forever forgetting the name or exact locations of that Group Policy setting you know exist but just can't remember you will be glad to know that the Group Policy Search Engine has now been updated. This web site allows you to quickly search for all of the Windows and Office group policy setting with a handy summary of the setting along with the registry key and category it exists. Thankfully the site has now been updated to include all the Windows 8 and 2012 settings along with a few navigation improvements.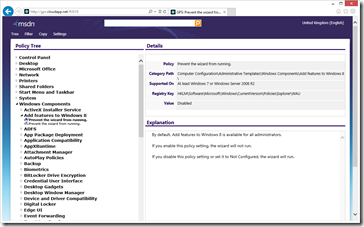 As you can see below along with the new settings you will
also notice that each setting now has a computer or users icon next to it to signify if that policy is a computer or user setting… handy!

Below is a complete list of changes with this new version:
Added support for Windows 8 and Windows Server 2012
Added new icons in front of the policies to mark whether they are user or machine based (that's esp. for myself! 😉 )
Added auto language detection for the supported languages (en, de, fr, it, es)
Added support for ajax navigation
Got rid of the x-ua-compatible
Suggestions should behave better now
Fixed some (very old 😉 ) bugs
So check out the updated site at http://gps.cloudapp.net