Internet Explorer 10 has been out for a while now if you are using Windows 8 however Microsoft has only just released IE 10 for Windows 7. So If you are not contemplating upgrading to Windows 8 but do want the goodness of the improved HTML 5 support of IE 10 then it might be a good time to check out the TechNet article with all the new Group Policy settings at http://technet.microsoft.com/en-us/library/hh846775.aspx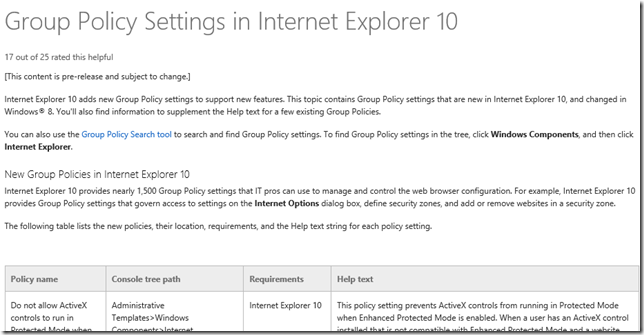 As always it is best to edit your Group Policy objects using the most recent version of the operating system (Windows 8 / 2012). However if you are not able to install Windows 8 or Server 2012 in your environment to edit your GPO's all is not lost…
The ADMX files are updates on any computer that you have Internet Explorer 10 installed meaning that you can still edit the Internet Explorer 10 Administrative template setting from a Windows 7 and Server 2008 R2 computer if you also have the Group Policy Management Console Installed.

However the Internet Explorer Group Policy preference are not as easily updated and you will still need to using a Windows 8/2012 computer to edit the IE 10 Preferences settings.
Update: I can confirm that the XML registry hack I previously posted at https://www.grouppolicy.biz/2011/03/how-to-enable-group-policy-preferences-support-for-ie9/ does still work with the IE 8 GPP setting if you set the MAX version to 11. However do this AT YOUR OWN RISK.