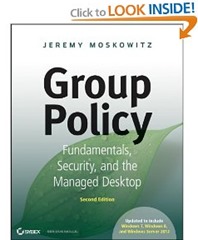 So before you read this review of this book I have to be up front and say that I worked on this book… So… Of course its fantastic and you must buy it.

But Seriously for the better part of last year I have been spending my spare time to be the Technical Editor for Jeremy Moskowitz latest book called "Group Policy Fundamentals, Security, and the Managed Desktop".  This book is hands down the best Group Policy book that you can buy. What I really like about this book as it covers everything from the basics of Group Policy and how it works to some of the most advanced topic, heck, even I learnt a few things. So if you are just staring out with group policy or if you just want a great reference with heaps of example (and screenshots) this this is definitely the book to buy.
Even if you have had bought this book previously you will still find it very useful as it has been updated for Windows Server 2012 and of course all of the screenshots have been updated (mainly by me) to Windows 8.
Below is a list of the chapters of the book and you will even find that you can get a few bonus chapters if you end up buying the book…
Chapter 1 – Group Policy Essentials
Chapter 2 – Managing Group Policy with GPMC
Chapter 3 – Group Policy Processing Behaviour Essentials
Chapter 4 – Advanced Group Policy Processing
Chapter 5 – Group Policy Preferences
Chapter 6 – Managing Applications and Setting Using Group Policy
Chapter 7 – Troubleshooting Group Policy
Chapter 8 – Implementing Security with Group Policy
Chapter 9 – Profiles: Local, Roaming, and Mandatory
Chapter 10 – Implementing a Managed Desktop, Part 1: Redirected Folders, Offline Files, and the Synchronization Manager
Chapter 11 – The Managed Desktop, Part 2: Software Deployment via Group Policy
Chapter 12 – Finishing Touches with Group Policy: Scripts, Internet Explorer, Hardware Control, Deploying Printers, and Shadow Copies
Appendix A – Group Policy and VDI
Appendix B – Security Configuration Manager
Appendix C – Windows Intune (And what it means to Group Policy Admins)
So… Buy it now keep it on your shelf as the ultimate reference… or just brush up with what is new in Windows Server 2012 what ever way this is one reference book that will not collect dust.
Amazon Link http://amzn.com/1118289404
ISBN-10: 1118289404