One of the common question I see on the forums from time to time is how to exclude a user and/or a computer from having a Group Policy Object (GPO) applied. This is a relatively straight forward process however I should stress this should be used sparingly and should always be done via group membership to avoid the administrative overhead of having to constantly update the security filtering on the GPO.
Step 1. Open the Group Policy Object that you want to apply an exception and then click on the "Delegation" tab and then click on the "Advanced" button.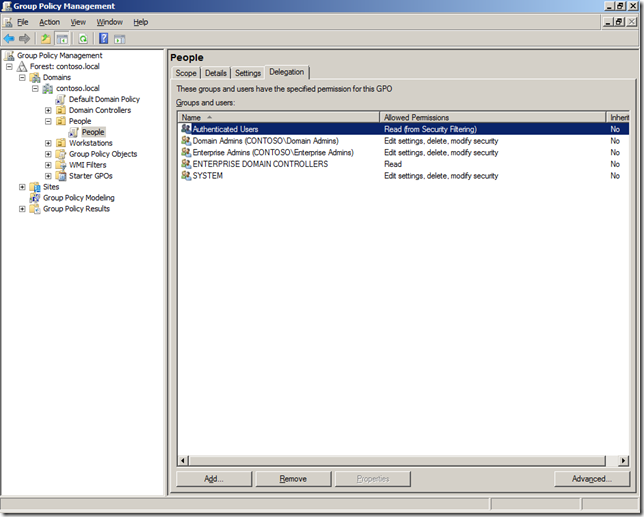 Step 2. Click on the "Add" button and select the group (recommended) that you want to exclude from having this policy applied.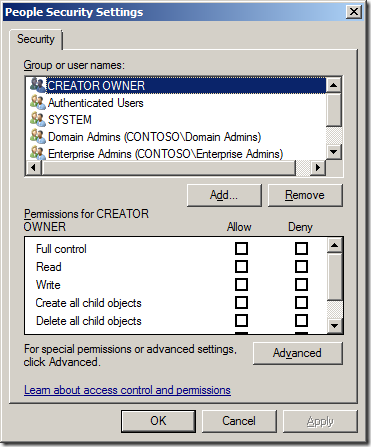 Step 3. In this example I am excluding the "Users GPO Exceptions" group for this policy. Select this group in the "Group or user names" list and then scroll down the permission and tick the "Deny" option against the "Apply Group Policy" permission.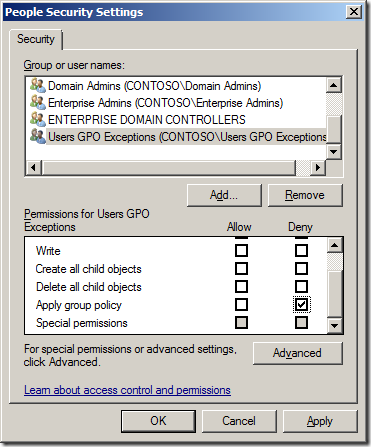 Now any members of this "User GPO Exceptions" security group will not have this Group Policy Object applied. Having a security group to control this exception makes it much easier to control as someone only needs to modify the group membership of the group to makes changes to who (or what) get the policy applied. This makes the delegation of this task to level 1 or level 2 support much more practical as you don't need to grant them permission to the Group Policy Objects.