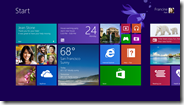 Microsoft has just announced bunch of new business related features for Windows 8.1 some of which really stand out. For the vast number of business related features being added to Windows 8.1 it would seem that the focus for this release of Windows is now firmly back on what Business also want.
Below is a summary of the features that most notably stand out from the blog post.
Work Folders
From the description of this feature it sounds like this is going to be a corporate SkyDrive like services. Meaning users can keep a copy of the files locally on their computer and have it synchronised with their datacentre.
Users can keep local copies of their work files on their devices, with automatic synchronization
They also mention that it can be managed via "Policies" (hopefully Group Policy) on the "Work Folder Sync Share". Hopefully this is a replacement for redirected folders and as such will allow users to more easily access their work files locally on their "devices".
Workplace Join
This seems to be described as a lightweight domain join allow users to have "access to corporate resources". It also mentions that "user registers their device" but it not specific if this is just Windows 8.1 or also include other devices like Windows RT…
Web Application Proxy
This reads like they have taken the reverse proxy feature out of the now discontinued Forefront firewall product and put it in as a Windows Server role (presumably Windows Server 2012 R2). This means that IT staff can now use the Microsoft reverse proxy feature to publish services from behind a firewall without having to rely upon third party servers on the perimeter.
Boot to Desktop
Microsoft also state they have made "configuration options available" to enable Windows 8.1 to boot directly to the Desktop. Here is hoping that this means that they will have a Group Policy setting to enable this option.
In any case this is the week of TechEd North America so I expect that we will be seeing lost more features announced around the server and the cloud very soon…  Stay Tuned
Source http://technet.microsoft.com/en-US/windows/dn140266.aspx