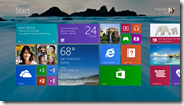 Microsoft has just announced that the next version of Windows will be called Windows 8.1 and confirmed that it will be available as a FREE upgrade for existing Windows 8 users that will be released this year.
Notably that said that one of the changes in the operating system include an "options to boot into alternate screens", hopefully this means that there will be a Group Policy option to configure a boot to desktop option that I have ranted talked about before and also hacked a workaround.
Unfortunately there was no details in the blog post about any group policy enhancement however they did say that "Windows 8.1 will also include big bets for business in areas such as management …. we'll have more to say … next week at TechEd North America.".
For more information check out the blog post at:  http://blogs.windows.com/windows/b/bloggingwindows/archive/2013/05/30/continuing-the-windows-8-vision-with-windows-8-1.aspx